May 12, 2008
Not much to post this morning -
But here is a new pic - taken durning a mission...heh - the part where we are chilling in the a/c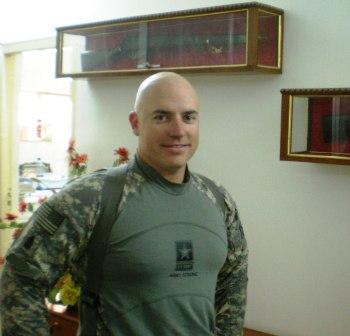 We were providing protective services @ the Ministry of Veteran's Affairs - and they had a few nice examples of German and British WWI and WWII era rifles hanging on the wall...I tried to get some pics but the lights on the plexiglass case front precluded any of any quality....
Catch you on the flipside...
Posted by: Misha Moriarti at 10:32 PM | Comments (3) | Add Comment
Post contains 84 words, total size 1 kb.
1
Hey mike, what's up? Nice pic with the swords...man I have never seen anyone do that...very original i must say. "the tower, you must never go in there under any circumstances"....haha "olaf" back to you.
What is that interesting piece of kit your have on in that pic. Some sort of unauthorized operator esque thing I am sure.
Anyway, take care of yourself and your joe's. Write when you can.
SplinterOne Outtro,
Grant
Posted by: Grant at May 13, 2008 11:57 AM (gZNZe)
Posted by: Moriarti the Kaffir at May 13, 2008 12:08 PM (Y92+U)
3
Totally Authorized BTW - Known as the "Army Combat Shirt" it is NOMEX but in a "UnderArmour" styleeeeee...yeah boyeeee...ummm....yeah. Get your neat guy operator kit @
Nootch!
Posted by: Moriarti the Kaffir at May 13, 2008 01:54 PM (Y92+U)
Comments are disabled. Post is locked.
13kb generated in CPU 0.04, elapsed 0.0746 seconds.
37 queries taking 0.0476 seconds, 102 records returned.
Powered by Minx 1.1.6c-pink.