March 31, 2008
A quick story before I go wash my nasty arse
SO you know - It is HOT in the desert - running 2 miles gets you sweaty..anyway -
So there we were at the crew served weapons range - yes again...and we were getting a period of instruction on these new nifty "Escalation of Force" items called a "pen flare" - actually these things aren't really new at all - they have been an NSN item for years and used by AF and Navy aviators in allied forces for years - they are basically a 9mm zip gun that fires a phosphorous flare about 2-300 meters - we use them to warn off the LNs from approaching our element so as to reduce the need to fire actual warning shots form one of our more lethal systems-
So, no shit - there we were...
Everyone was practising with our pen flares - launching them with great vigor at the targets out on the range - having a grand time...wait - let us return to the morning...fade to squiggly screen flashback effect -
So here I am - the 1SG of a combat unit - berating the Platoon Sergeants for allowing certain mutant Soldiers to wear proper winter gear, to include long sleeve silk weight thermal shirts, winter gloves and fleece caps under their combat gear when it is 100+ degrees outside - I let them know that the commander would pursue NJP against anyone who sustained a heat injury while wearing that nonsense - Winter gear under body armor and helmets?!?! Are you serious?
Back to the future -
There we are popping off flares and giggling like school girls when a soldier wearing a fleece cap under his ACH, a thermal shirt under his uniform and WINTER WIEGHT GLOVES (which he later claimed to the the primary culprit for his clumsy handling of the flare) fiddle phucs a pen flare, flagging the whole unit and launching it straight into the crowd...fortunately no one was injured as the flare embedded itself harmlessly into the desert floor, but damn! Of course prior to this incident I was quite sure that this particular soldier is yet another idiot savant - certifiably so...window licking bastard.
Posted by: Misha Moriarti at 12:14 AM | Comments (1) | Add Comment
Post contains 372 words, total size 2 kb.
March 30, 2008
Delayed again -
Stuck waiting for the Air Farce to un-phuc itself - again -So maybe I shall spin a yarn about our intrepid heroes - and their adventures in the desert- maybe a few- it will be a long day and I have catching up on here I must do!
As a side note - recent events in my life had made me appreciate you, my friends and family, so much more - @ risk of sounding like a certain patchouli smelling hippy that I love - I really love you all, and miss you all very much. I can't wait to get home again and spend some quality time with all of you.
Crystal blue skies over the roar of the Atlantic - white sand squeaking in protest underfoot as steel-drums woo us, sweet tones wafting past the cries of gulls...mojitos by day and Jameson's by night...the kids oblivious to our oblivion....damn i miss it....
Posted by: Misha Moriarti at 11:50 PM | No Comments | Add Comment
Post contains 157 words, total size 1 kb.
March 28, 2008
Oh no he didn't...
Oh yes he did -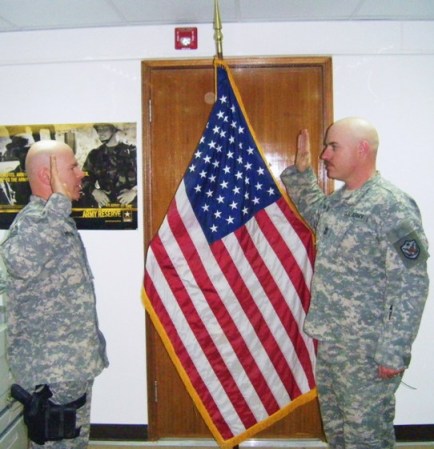 At the 19 year mark, why would you do such a thing? Reenlist for another six? Duty, Honor, Country, Cash
Posted by: Misha Moriarti at 08:24 AM | No Comments | Add Comment
Post contains 30 words, total size 1 kb.
March 27, 2008
Scroll Buttons and the Lappy -
Hah....recent developments on all fronts call for retrogrades, upgrades and field grades
Have patience for the next little bit as it gets hotter here- AND my poor lappy was so sick I had to go get a new one- and the internet connection here in Q8 sux - with all the fun going on up north I just hope we don't miss it all! Heh - not likely huh Mookie? What a fag. Again - have patience - hopefully between transferring to a new lappy - the schedule and bad connection I will actually be able to send an email soon...tty all soon.
Posted by: Misha Moriarti at 11:05 AM | No Comments | Add Comment
Post contains 109 words, total size 1 kb.
March 24, 2008
The saga continues -
And more plenty stuff to blog about -
Some of you may recall a tidbit on this blog about a ManChild in my unit who had trouble with both swimming *and* ermmm....a...potty episode...
*more below the fold*
more...
Posted by: Misha Moriarti at 12:08 PM | Comments (1) | Add Comment
Post contains 1313 words, total size 12 kb.
March 20, 2008
Arrived in Q8
And it is GLORIOUS compared to Ft. Riley - god I hated that place and all the ancillary nonsense that went with it... But now we are in Camp XXX and it looks much the same as it did last time. We were greeted by our LNOs from the unit that we are replacing and they are taking good care of us. The food sux worse than @ Riley - which I thought was an impossibility - if the Food up north is as bad - I will drop lbs with a quickness - yuk. Went for a run this AM - yay! 60 degrees and dry...perfect...Oh - the boss pinned my Diamond on me on the bird - that was nice - except that now I have to go get everything re-sewn...and I hope the pay catches up to me
Well gotta jam - will post again ASAP!
Posted by: Misha Moriarti at 01:30 AM | No Comments | Add Comment
Post contains 152 words, total size 1 kb.
March 17, 2008
Here we go Loopty-Loo!
In typical fashion we were shorted over a week of block leave before deployment due to the machinations of the Air Farce - although I have serious questions about the training unit's attempt to "keep it from happening".
This was further compounded by the training unit calling me and the CO after everyone was home and attempting to change the load out schedule to a time *before* our published Cinderella time to be back in the barracks...what rubbish - fortunately the CO told them to pound sand and we pushed it back until after everyone was back.
We were issued 4 gear boxes (instead of 1) to put additional supplies, such as manuals, medical, weapons maintenence and training aids...this was because here at "Combat Advisor" school the average team is 12-15 pax - Our company is *considerably* more than that - so we were authorized addtional space for team kit - of course when the load out Nazi came to inspect our boxes - he hardlined us and held us to 1 box - "one box per team - period" - so we spent half the night finding space in individual duffles for the team kit - grrrr....of couse all of our assault packs have to fit in a airline style box before we are allowed to get on the aircraft - so we had to pack those VERY light...can't wait for the cluster phuc in the morrow....
On a happy note - we are all now proud graduates of the Army's Elite "Combat Advisor" course...we just want to know when we are getting our tab...and does it take precidence over SF, Sapper or Ranger tabs?!?! (BTW - that was sarcasm)
On an even happier note - I got to drive my car this w/e - zoom - zoom - zoom
I love that car -
On an even more happy note I got to spend time with the kiddos this w/e - played some baseball - stole some deedle-dee and chilled -
On a more different happy note - I recovered my Ti and promised to come back with my shield...or on it.
So - the surge is winding down...looks like my job might get interesting...doens't that just figure - oh wicked hand of fate -
Mars - we ask for the steel and the fire to vanquish our enemies...
Themis - we ask that you smile blindlyupon us, as we do your work against the enemies of freedom...
Nike - we ask that you grant us vicotry - it is your realm..
So, in the immortal words of Conan - the good things are:
"To crush my enemies, see them driven before me, and hear the lamentations of their women".
Snootch to the Mutha Phucin Bootch.
Posted by: Misha Moriarti at 10:24 PM | No Comments | Add Comment
Post contains 462 words, total size 3 kb.
March 12, 2008
Almost time...
A couple of days to go until we head out for IZ - I cannot wait - Ft. Riley is by far the worst stateside Army facility that I have ever encountered. not that the facilities themselves are sub-par - it is just that the weather and environment is horrific.
I am really looking forward to being operational again...getting sand back on my boots - getting away from here...I miss the feeling - the smells - the sounds - the taste - the time to think - to be thoughtless - to be everything and nothing....I need this year...it needs me...I have a lot to work out - a lot to consider - a lot to wiegh.
I will miss you all - and hope to see you again on the flipside - Some of you I will see this w/e - some on mid tour - all in time. You all take care - remember what is important - don't let what is not slow you down...
So back to my war - I miss it so.
Posted by: Misha Moriarti at 10:30 AM | No Comments | Add Comment
Post contains 180 words, total size 1 kb.
March 10, 2008
A lot going on in my life right now -
So the war blog has suffered - But I am about to leave lovely Ft. Riley and go to my second home - so the blog will gain some momentum.
This is your station under NO CONTROL -
Posted by: Misha Moriarti at 12:29 PM | Comments (1) | Add Comment
Post contains 48 words, total size 1 kb.
28kb generated in CPU 0.1, elapsed 0.1687 seconds.
38 queries taking 0.0928 seconds, 116 records returned.
Powered by Minx 1.1.6c-pink.