August 29, 2008
Hope AGAINST Hope?!?!?
OK - I have to Flip-Flop on this - Barr buddy, you just have NO chance - NONE. I really like EVERYTHING you have to say - but with the current 2 MAJOR party setup - it is a lost cause. HOWEVER....with this new pick for Veep - McCain has won me over -
Ladies and Gentlemen, the Vice President of the United States (I "HOPE")
Sarah Palin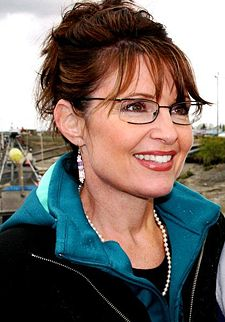 She is not just a pretty face...more below the fold.
She is also very Conservative (From WIKI):
Governor Murkowski (AK) appointed Palin Ethics Commissioner of the Alaska Oil and Gas Conservation Commission, where she served from 2003 to 2004 until resigning in protest over what she called the "lack of ethics" of fellow Alaskan Republican leaders, who ignored her whistleblowing complaints of legal violations and conflicts of interest. After she resigned, she exposed the state Republican party's chairman, Randy Ruedrich, one of her fellow Oil & Gas commissioners, who was accused of doing work for the party on public time, and supplying a lobbyist with a sensitive e-mail. Palin filed formal complaints against both Ruedrich and former Alaska Attorney General Gregg Renkes, who both resigned; Ruedrich paid a record $12,000 fine. >>
> >
In 2006, Palin, running on a clean-government campaign, executed an upset victory over then-Gov. Murkowski in the Republican gubernatorial primary. Despite the lack of support from party leaders and being outspent by her Democratic opponent, she went on to win the general election in November 2006, defeating former Governor Tony Knowles. Palin said in 2006 that education, public safety, and transportation would be three cornerstones of her administration.
>>
>>
When elected, Palin became the first woman to be Alaska's governor, and the youngest governor in Alaskan history at 42 years old upon taking office. Palin was also the first Alaskan governor born after Alaska achieved U.S. statehood. She was also the first Alaskan governor not to be inaugurated in Juneau, instead choosing to hold her inauguration ceremony in Fairbanks. She took office on December 4, 2006.>>
> >
Highlights of Governor Palin's tenure include a successful push for an ethics bill, and also shelving pork-barrel projects supported by fellow Republicans. Palin successfully killed the Bridge to Nowhere project that had become a nationwide symbol of wasteful earmark spending."Alaska needs to be self-sufficient, she says, instead of relying heavily on 'federal dollars,' as the state does today.">>
> >
She has challenged the state's Republican leaders, helping to launch a campaign by Lieutenant Governor Sean Parnell to unseat U.S. Congressman Don Young and publicly challenging Senator Ted Stevens to come clean about the federal investigation into his financial dealings.>>
> >
On September 11, 2007, the Palins' eighteen-year-old son Track, eldest of five, joined the Army. He now serves in an infantry brigade and will be deployed to Iraq in September 2008.
>>
She hunts, eats moose hamburger, ice fishes, rides snowmobiles, and owns a float plane. Palin holds a lifetime membership with the National Rifle Association. She admits that she used marijuana when it was legal in Alaska, but says that she did not like it.
She is teh awesome.
And she rides a Hawg.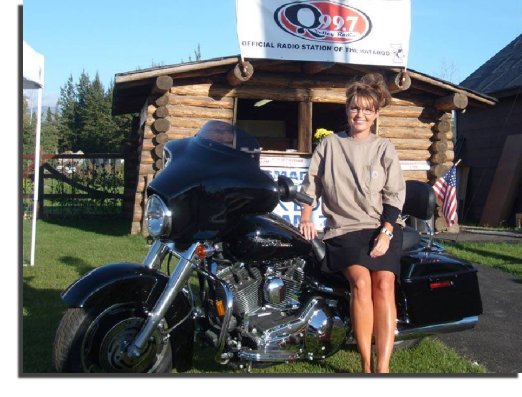 And - Unlike the Obamessiah - she has actually BEEN to Landsthul GER - to visit our war wounded.
And her husband is a Native Eskimo - working stiff - tough guy - snowmobiler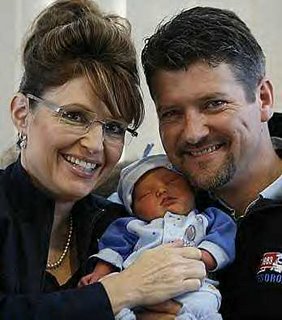 And - on the shallowest front of all - BUT maybe the one that counts the most to the voting public - she is hot - Miss Wasilla AK 1984 (Miss AK Runner Up 1984)
And - she sorta reminds me of President Laura Roslin from BSG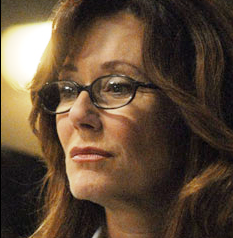 Posted by: Misha Moriarti at 12:13 PM | Comments (4) | Add Comment
Post contains 600 words, total size 10 kb.
1
I'm totally with you...she's WAY too attractive to be a politician! You know I'm not into politics, but from what I've read about her, I like her.
Posted by: 80 at September 07, 2008 06:33 PM (zug67)
Posted by: Smith.ds at May 09, 2010 10:23 PM (hCQfq)
Posted by: Smith.ds at May 09, 2010 10:27 PM (hCQfq)
4
something;s losing and sth would come to us
Posted by: pattiewillford at March 08, 2011 06:34 AM (FPrdn)
Comments are disabled. Post is locked.
24kb generated in CPU 0.03, elapsed 0.0649 seconds.
37 queries taking 0.0402 seconds, 103 records returned.
Powered by Minx 1.1.6c-pink.