May 09, 2008
Hmmm....liking the ACOG vibe -
Hello to all of y'all! This week has been a bit nerve wracking - lots of IDF and lots of strangeness out in the red - (Missed me again Mookie!) -
It looks like the Cav boys with the ....errrmmmm....help....of the IA and IP (collectively known as the ISF) are slowly stomping Mookie's ass for him - 1 block at a time -
(more below the fold)
My boys caught some SA this week - no PID - so no returned fire -
- but I would like to say that the vast majority of the boys are Frosty like the snow man out there - there are only a couple that I have my worries about, but the vast right wing conspir...I mean majority - are turning into right operators - I am proud of them.
Our buddy Robear is *NOT* pleased with his duty assignment and regularly takes it out on me
PSO work sucks when the principle won't leave the wire
I gave in and mounted a ACOG (Advanced Combat Optical Gunsight) on my rifle instead of the Leopould CQ/T -
It took some convincing as the aforementioned ACOG - *I* thought was *not* a zero paralax system for close in use - mainly because of all the crazy add on red dots and iron sights that you see bolted to ACOGs- these things are so popular that even Trijicon (the makers of the ACOG) is selling the things with a mini red dot pre-mounted -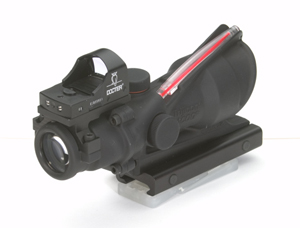 HOWEVER - this is really unnecessary as the ACOG can be used (and actually is *intended* to be used during CQB work as a "red dot" - not to mention the reticle is set up to shoot both eyes open out to 200m. The "issue" ACOG has a range finding reticle that is VERY quick to aquire and seems to *always* have just the right amount of intensity - regardless of the conditions - this is thanks to the dual illumination system - Tritium and fiber optics light it up at night and daylight (respectively)
Anyway - the point is - we went out to the range the other day and I zeroed the thing - and OK - so I like it - I like it enuff to leave it on - in place of my CQ/T for a bit - hmm....we'll see - the only problem I had in zeroing is I was a bit rushed becuase of the circumstances - so it is battle zeroed - but not pinpoint zeroed like my CQ/T - I know with my CQ/T headshots out to 300m were easy peasy - with this ACOG...well, suffice it to say that I will want to go back and confirm zero with a proper target and take my time - BUT for now I am confident of a "center mass" hit out to 300m easy - 500m if I take my time
Posted by: Misha Moriarti at 01:26 AM | Comments (1) | Add Comment
Post contains 495 words, total size 3 kb.
1
Hmmmm, I wonder why Robear would take it out on you????? Maybe it was you who sent me to Purgatory...... Yes PSO work sucks huge when the principal stays so damn safe in the wire... A change in direction I see awaits me.... We'll see, tells of time it does......
Posted by: Splinter 2 at May 12, 2008 02:13 AM (Q230n)
Comments are disabled. Post is locked.
14kb generated in CPU 0.03, elapsed 0.0564 seconds.
37 queries taking 0.0365 seconds, 100 records returned.
Powered by Minx 1.1.6c-pink.